LEGOLAND Resort Hotel
Facilities

Free
Parking
Kid's
Menu
Swimming
pool
Health
club
Free parking

Swimming pool

Exclusive 30 minutes Atlantis Submarine Voyage and Dino Safari early ride time (on selected dates)
Unique themed rooms
Children's entertainment programme (park season)
Interactive LEGO play areas
Low-level viewing port holes
In room movies on demand (charge applies)
Buffet style restaurant with child-focused menu
Children's own sleeping area with their own TV
Iconic LEGO figures throughout the hotel
Pirate themed water play area
Secret whoopee cushions
Tight-rope walking marching guard
Exploding toy box
LEGOLAND Resort Hotel
If there was a Top Ten Things to Do Before You're Ten list, the new LEGOLAND Resort Hotel would certainly rank as number one*.

Bringing LEGO to life, the new hotel is full of child friendly features, including:


Child-friendly Bricks buffet restaurant
Pirate-themed indoor water play area
Children's entertainment programme
Swimming pool
Stunning Skyline Bar
Interactive LEGO features
Secret whoopee cushions
Tight-rope walking marching guards
Exploding toy boxes
Treasure trails
Themed lifts
Movies on demand
All bedrooms are themed —
Pirate, Kingdom or Adventure
— with interactive challenges to inspire little imaginations, separate bunk-bed areas and larger-than-life LEGO figures. For the first time ever, children will want to go to bed early!
For the
ultimate LEGO experience
, upgrade to a
Premium Room
, which comes with tons of extra benefits, including full theming throughout, AND you'll find a LEGO gift inside the room's chest.
In addition — all LEGOLAND Resort Hotel guests also benefit from:
Exclusive 30 minutes Atlantis Submarine Voyage and Dino Safari early ride time (on selected dates)
Free parking
Any time luggage check-in
*Source: Most definitely biased LEGOLAND experts 2011!
If you have already booked to have dinner at the hotel during your stay, please ensure you book your table direct with the hotel in advance by calling 0844 844 8099.

If you are booking the Big Build package, please be advised that your booking is non refundable if you wish to cancel within 14 days of the stay date.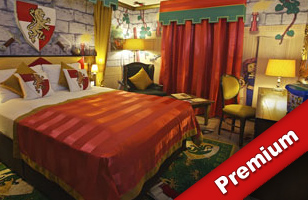 LEGOLAND Resort Hotel
All rooms are themed and can accommodate up to 5 people — choose from Pirate, Kingdom or Adventurer .

Travel cots are available, and can be accommodated in all rooms.

Interconnecting rooms are available on request, but cannot be guaranteed.

Themed Rooms
All rooms are themed, so choose your room according to whether you're a fearless pirate, an intrepid adventurer, a brave knight or a regal princess. All rooms have larger-than-life LEGO figures, themed decor and an interactive treasure challenge.

Premium Rooms
For the ultimate LEGO experience, upgrade to a Premium Room, which has all this AND MORE! With extra LEGO features and full theming throughout the room, plus you'll find a LEGO gift inside the room's chest. With all this you'll feel like a LEGO VIP! 


Whether you stay in a themed or a premium room, you can upgrade and stay in a room with a view overlooking the LEGOLAND Windsor Resort. Please note: the hotel does not have Kingdom Premium Rooms with a view of the Park.
Room Facilities
FREE LEGO gift in room
New! Dedicated LEGO® TV Channel
En suite bathroom with shower
King size double bed
Fantastic children's sleeping area with own TV
Telephone
Hairdryer
TV
Tea & Coffee making facilities
Movies on demand (charge applies)
Free high speed Wifi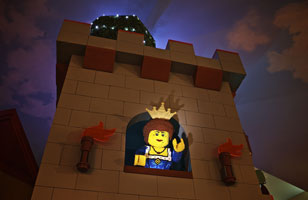 LEGOLAND Resort Hotel
The new LEGOLAND Resort Hotel is a children's paradise — full of quirky LEGO touches, laugh-out loud moments and an ongoing opportunity for playful learning.

From the moment you and your family arrive at the Hotel, your children become the hero as they're met by our Welcome Hosts and taken into the hotel.

Everything's been created with them in mind; from low-level viewing portholes and interactive play areas through to the magical themed lifts, it's a perfect family environment.

Kids facilities
Exclusive 30 minutes Atlantis Submarine Voyage and Dino Safari early ride time (on selected dates)
Unique themed rooms
Children's entertainment programme (park season)
Interactive LEGO play areas
Low-level viewing port holes
In room movies on demand (charge applies)
Buffet style restaurant with child-focused menu
Children's own sleeping area with their own TV
Iconic LEGO figures throughout the hotel
Pirate themed water play area
Secret whoopee cushions
Tight-rope walking marching guard
Exploding toy box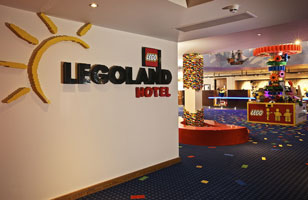 LEGOLAND Resort Hotel
The LEGOLAND Windsor Resort Hotel has plenty to keep you entertained during your stay.

Kids will love the pirate-themed indoor water play area, open from 07:00 until 20:00 every day. There's also a swimming pool, and a secure gym area (which is open 7am - 8pm and adults only).
There's lots of fun to be had in our Pirate Splash Pool area but we do ask that children under the age of 12 are joined in the water by a supervising adult at all times.

There's a fun-packed children's entertainment programme, plus lots of specially-designed features to captivate the kids, including a treasure trail and interactive LEGO characters.

Plus there are movies available on demand*, plus high-speed Wifi access.

* Additional charges apply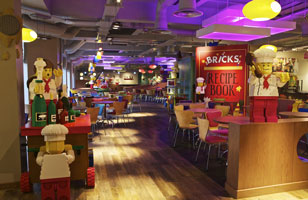 LEGOLAND Resort Hotel
Food offers
Bricks Family Restaurant
A child-friendly dining experience, with a relaxed atmosphere, colourful characters and great food designed with kids in mind. The menu offers a wide-range of buffet options to suit all tastes and ages.


Seats 250
Reservations required


The Restaurant will be closed between 2nd - 6th March 2014
Breakfast will be served in the Skyline Bar, where dinner will also be available.


Skyline Bar
A more relaxed dining option, serving drinks and snacks throughout the day.
Seats 100
No reservations required
Breakfast
A buffet breakfast is included.
Room service
Room service is available 24hrs a day
LEGOLAND Resort Hotel
An unforgettable family experience, right in the heart of the Resort.
Address
LEGOLAND Resort Hotel
Winkfield Road
Windsor
Berkshire
SL4 4AY
Customer rating
Our customers said
The staff were great, the hotel brilliant, the themed room tremendous!
The Hotel is amazing and they have certainly outdone themselves. The kids absolutely adored it and can't wait to go back.
AA star rating
From park
In park
Fun rating
Check in/Check out
The earliest check in time is 3pm, and the latest check out time is 10am.

Parking
Overnight parking is available and is free of charge.


Hotels near LEGOLAND Resort Hotel
Hotel
Star
rating
Customer
rating
Miles from
hotel