Holiday Inn Express Heathrow T5
Facilities


Free
parking

Kids
menu
Free parking

Play area

Pink welcome pack for girls and blue for boys
A special children's check in
Play area (located in the corner of the bar area)
Sony Playstation®
Children's menus
Kid's TV channels in the room
Board games available from reception
Children's in room TV channels
Personalised welcome letters

Holiday Inn Express Heathrow T5
The Holiday Inn Express offers comfort and value for money in a great location for a visit to LEGOLAND Windsor.

Relax in a friendly environment after a busy day at the Park before waking up fully refreshed the next day. It's in a prime setting for visits to other fantastic attractions including Windsor Castle and THORPE PARK.

Your kids will be kept entertained for hours with their special goody bags, yummy food, board games, Sony Playstation® and play corner the hotel has to offer.

Hotel facilities: Italian restaurant TRATTS, Bar and Lounge, International Restaurant, Gym and Costa coffee outlet.

This hotel was previously known as the Quality Hotel Heathrow.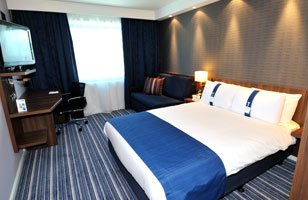 Holiday Inn Express Heathrow T5
Triple Rooms
Triple rooms will be a double bed and a sofa bed. Please note - Triple rooms cannot accommodate cots.
Quad
Family of 4 rooms come with one double bed and a double sofa bed.
Please note - Cots cannot fit in to family of 4 rooms
Room Facilities
Standard rooms have an en-suite bathroom and come with the following amenities:
TV
Coffee maker
Tea maker
Internet access
Please be advised all rooms have walk in showers not baths.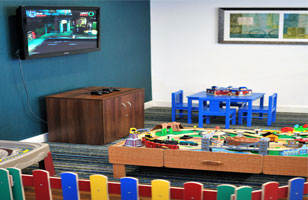 Holiday Inn Express Heathrow T5
There are plenty of facilities available to keep your children entertained at the Holiday Inn Express London Heathrow T5.
New Play area, welcome pack and kids goody bag on check in.
Kids facilities
Pink welcome pack for girls and blue for boys
A special children's check in
Play area (located in the corner of the bar area)
Sony Playstation®
Children's menus
Kid's TV channels in the room
Board games available from reception
Children's in room TV channels
Personalised welcome letters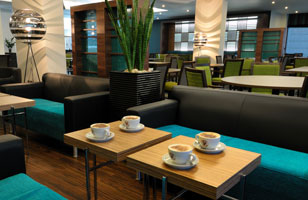 Holiday Inn Express Heathrow T5
Bar and internet desk.
Leisure facilities
Bar and internet desk.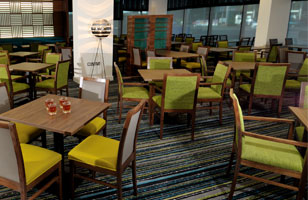 Holiday Inn Express Heathrow T5
Restaurant and opening times
The Great Room is a light and contemporary restaurant which serves an eclectic selection of dishes from around the world, certain to please the entire family. The friendly and attentive staff are constantly at hand to ensure your dining experience is a true delight.


Seasons Opening Times:
Breakfast: 06:00 - 10:00 (Monday to Thursday) and 06:30 - 10:30 (Friday to Sunday)
Dinner: Open Daily 17:00 - 22:00
The Lounge menu is available from 11:00 - 23:00, seven days a week
Breakfast
Express Start Breakfast now includes selected hot favourites*
After a great night's sleep and a refreshing power shower, nothing gets you off to a better start than a tasty breakfast.
As well as our ever-popular continental style selection, you can now enjoy scrambled eggs and sausages plus delicious warm pastries and fresh coffee including espresso and cappuccino.

The Express Start breakfast menu includes the following:

-Scrambled eggs and sausages**
-Warm croissants and Pain au Chocolate
-Range of plain and fruit yoghurts
-Wide selection of cereals including high fibre/low calorie cereals
-Whole fruit(s)
-Grapefruit or mandarin segments on rotation
-Toast (white and brown)
-Orange and apple juice
-Fresh coffee including espresso and cappuccino
-Black and herbal teas
-Hot chocolate

Room service
Delivery available to room
Key to map icons
LEGOLAND Park
Holiday Inn Express Heathrow T5
Address
Holiday Inn Express London Heathrow T5
London Road
Slough
SL3 8QB

Customer rating





Our customers said
We had breakfast at the hotel and it was great, both of our young children enjoyed it as well.
Great check-in and lovely room, nice hotel within a good distance of LEGOLAND.
AA star rating



From park
9 Miles
Fun rating




Check in/Check out
Earliest check-in time is 14:00, Latest check-out time is 12:00 noon.
Parking
Free car parking
Hotels near Holiday Inn Express Heathrow T5
LEGOLAND Resort Hotel
An unforgettable family experience, right in the heart of the Resort. PLEASE NOTE, the pool is closed until the 23rd May for essential maintenance.
Hotel
Star
rating
Customer
rating
Miles from
hotel