Hilton Bracknell
Facilities

Free
Parking
Kid's
Menu
Swimming
pool
Health
club
Free parking

Swimming pool

Free ice lollies for kids
Colouring competition
Nintendo Wii room open 10am until 12 midnight (with adults only after 8pm)
Swimming pool
Children's check in
Children's activity pack
Children's cutlery
Hilton Bracknell
This Hilton Hotel is ideal for families with kids of all ages on a LEGOLAND holiday. It serves different options on the restaurant menu so your children can enjoy a yummy healthy meal plus KIDS EAT FREE within the restaurant!

This comfortable 4* Hotel is a few minutes drive from the M3 making it easy for those coming from the south-west and only a ten minute drive away from the Park.

For all bookings taken from the 31st August - 30th September, all customers will receive a complimentary Hilton beaker with unlimited squash, and adults will receive 25% off all drinks taken in the bar & restaurant.
Please present your booking confirmation to take up this offer.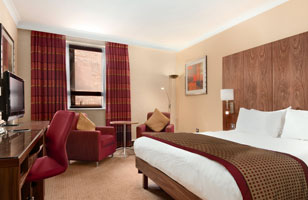 Hilton Bracknell
Triple Rooms
Triple rooms consist of a double bed with a single sofa bed.
Quad
Family of 4 rooms consist of a double bed with a double sofa bed
Room Facilities
Every one of the hotel's room are en-suite with the following amenities: Ironing facilites
Hair dryer
On demand TV
CBeebies and Cartoon Network TV channels
Tea and Coffee making facilities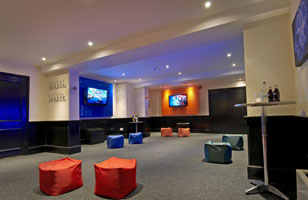 Hilton Bracknell
Upon check-in at the Hilton Bracknell, children receive a welcome pack complete with colours and an activity pack for under 10's. The hotel swimming pool is ideal for the little ones to splash about (swim nappies are available at a charge and times may vary during holiday periods), and children's channels can be found on the in-room televisions. Planet H interactive Games Room is on hand with fun-packed Computer games and consoles. Plus children enjoy free ice cream or ice lolly every day in the lounge during school holidays, served between 5pm — 6.30pm. That's not all - the Hilton Bracknell provide special children's cutlery and a children's self service buffet with a range of healthy and family favourite choices.
Kids facilities
Free ice lollies for kids
Colouring competition
Nintendo Wii room open 10am until 12 midnight (with adults only after 8pm)
Swimming pool
Children's check in
Children's activity pack
Children's cutlery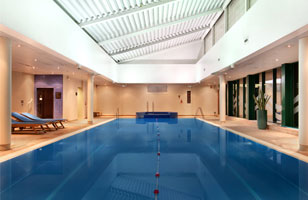 Hilton Bracknell
The Hilton boasts a wealth of leisure facilities for the whole family to enjoy. Mum and dad can enjoy the Living Well gymnasium and the bubble pool whilst the little ones can make a splash in the heated indoor pool. Other facilities include a Nintendo Wii room, and games & books are available from reception.
Leisure facilities
Bubble pool
Gymnasium
Heated swimming pool.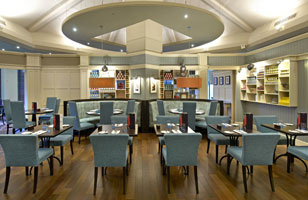 Hilton Bracknell
Food offers
We are happy to offer LEGOLAND® guests an exclusive Food and Beverage offer when staying at Hilton Bracknell as part of the LEGOLAND family package. Benefit from a 15% discount on dining in the hotel restaurants when you order from the carvery or à la carte menus. Please make your reservation for dinner on arrival at the hotel.

In addition, a child under 10 years old can eat free with 1 paying adult (with whom they are sharing a room) when dining from the main menu.

Children can enjoy free ice lollies everyday during school holiday periods available in the lounge daily between 5pm - 6pm.

You also have the option to order a Hilton Movie Meal Deal, which can be taken to your room and includes a movie from our in room movie selection, 2 pizzas, soft drinks and popcorn, all for just £25.00

Restaurant and opening times
The Larder Restaurant gives you an amazing dining experience with its floor to ceiling windows offering views of the great outdoors. Traditional roasts and a la carte menus give customers a variety of dishes to choose from.
We also serve Costa Coffee within our lounge, where you can grab a light bite and a drink. Comfortable surroundings make the lounge the perfect place to chill out after a long day at The LEGOLAND® Windsor Resort.

The Larder Restaurant opening times: Monday to Friday 6.30-10am and 6.30-9.30pm Saturday to Sunday 7.30-11am and 6.30-9.30pm
Breakfast
Full English breakfast.
Room service
Room service is available 24 hours a day.
Hilton Bracknell
Loved by kids and parents with great childrens facilities
Address
Hilton Bracknell
Bagshot Road
Bracknell
RG12 0QJ
Customer rating
Our customers said
Hotel was brilliant. Staff very friendly. Very clean. Great food.
Staff very helpful, no issues with the room, & both the leisure facilities & breakfast exceeded our requirements - well done!
AA star rating
From park
10 Miles
Fun rating
Check in/Check out
Earliest check in is 3pm. Latest check out is 12pm.
Parking
Overnight parking at the Hilton Bracknell is free of charge.
Hotels near Hilton Bracknell
Hotel
Star
rating
Customer
rating
Miles from
hotel