Hilton Basingstoke
Facilities


Free
parking

Kids
menu
Free parking

Children's welcome pack
Hilton Basingstoke
With comfortable rooms, child friendly facilities, freebies for the kids and delicious food, the Hilton Basingstoke is true value for money. A short 30 minute drive from LEGOLAND and conveniently located just off the M3 for those traveling from the southwest, it's a great choice for the whole family.

For a really relaxing stay, make the most of the on-site gym facilities, chill out in the lounge bar or enjoy a family meal in the Hotel restaurant. Kids get a welcome pack on arrival, and a host of other activities to keep them happy during your stay. And if that isn't enough, a full English breakfast is also included in the price of your Holiday, giving your kids enough energy for a day at the Park.

Please note, ALL children including infants, MUST be accounted for on your booking. If you arrive at the hotel and its apparent that there are more children than the bookings states, then the hotel reserves the right to refuse your booking, or charge you locally for extra rooms.
This information is needed for fire regulation purposes.

Kids eat for free with any full paying adult when dining in the restaurant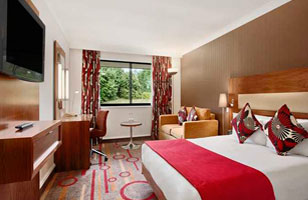 Hilton Basingstoke
Triple Rooms
Triple rooms come with a double bed and a sofa bed.
Quad
Family of 4 rooms consist of a double bed with a double sofa bed.
Room Facilities
Standard room hae an en-suite bathroom and come with the following amenities: Ironing facilities, hair dryer, ironing board, on demand TV and tea and coffee making facilities.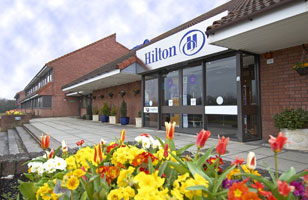 Hilton Basingstoke
The Hilton Basingstoke offers a range of facilities for the whole family to enjoy, including children's check in, children's welcome pack which includes an activity pack and magic sponge.

All rooms have CBeebies and CITV children's channels available
The hotel restaurant offers a fantastic children's menu, and a 15% discount on your evening meal, Kids under 10 eat for free with any full paying adult dining in the restaurant.

Hilton Basingstoke
The Hilton Basingstoke give you access to a free gym (Living Well) 24 hours of the day. Work out on the weights or take advantage of the cardiovascular equipment, access 24 hours, 7 days a week.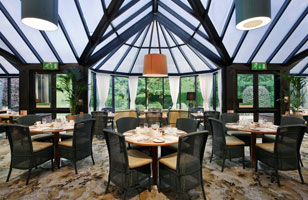 Hilton Basingstoke
Breakfast
Full English breakfast.
Room service
Order a wide variety of international dishes straight to your room 24 hours a day, seven days a week. The in-room menu offers children's options and special food requirements can be catered for.
Key to map icons
LEGOLAND Park
Hilton Basingstoke
Address
The Hilton Basingstoke
Old Common Road
Black Dam
Basingstoke
RG21 3PR

Customer rating





Our customers said
The hotel stay was faultless. Great room, great food, great staff always on hand.
Lovely hotel and very friendly staff and the standard of food was very good.
The Hilton Hotel in Basingstoke was wonderful, the hotel was very clean. The staff were wonderful and made my little boy's birthday very special.
AA star rating




From park
26 Miles
Fun rating




Check in/Check out
Earliest check in is 15:00. Latest check out is 12:00 unless otherwise arranged.
Parking
Parking is free at the Hilton Basingstoke.
Hotels near Hilton Basingstoke
LEGOLAND Resort Hotel
An unforgettable family experience, right in the heart of the Resort. PLEASE NOTE, the pool is closed until the 23rd May for essential maintenance.
Hotel
Star
rating
Customer
rating
Miles from
hotel